Orgasm is Better with Sex Toy
October 26, 2021
As soon as the COVID-19 quarantine began last year I began playing with sex toys, mostly luxury vibrators, more than ever before in my lifetime to help get me off since I couldn't meet up with real men to have sex with, and I have to admit that orgasms from sex toys are way better than from actual sex….and thanks to an online sexual wellness boutique by the name of IFONNX, I may NEVER need to meet up with men again to achieve AMAZING orgasms!
Sex toys totally have an unfair advantage because they're man-made and specifically designed to get a woman off, but wow do they give me the best orgasms that I've ever had!
For example, masturbating with a RABBIT VIBRATOR is intense and powerful because you have control over your orgasm…they also have batteries and give off sensations that a man's tongue, finger or wiener just cannot mimic or maintain.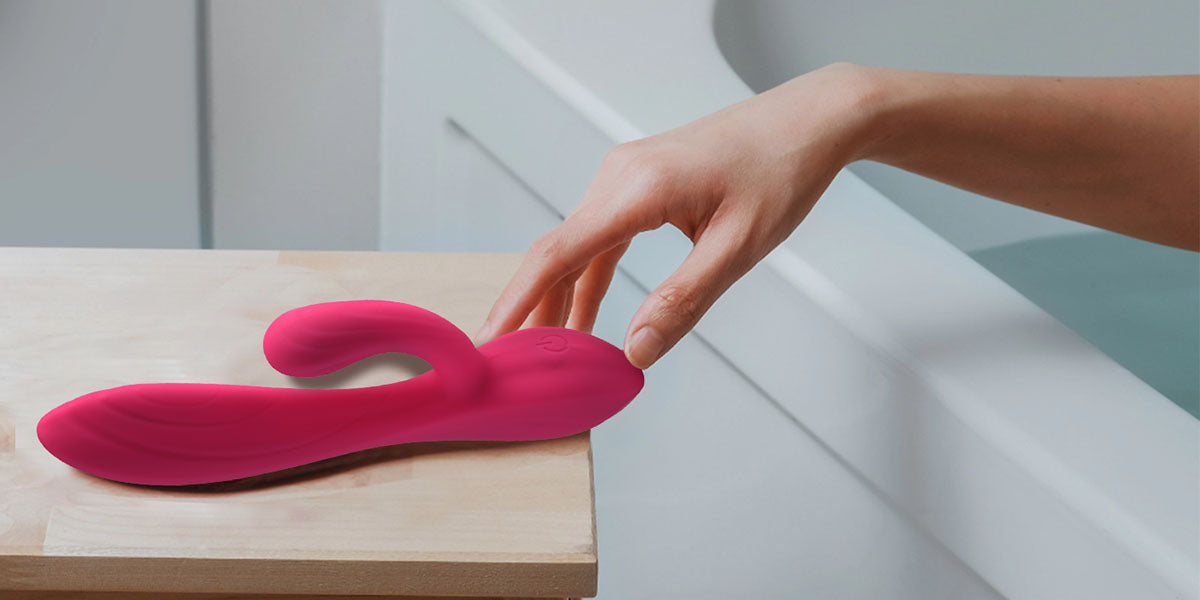 I'm not writing this to hurt anyone's feelings, or harm the egos of all of you men out there, but I urge all of you women out there reading this today to go and get yourself a new sex toy from IFONNX so you can have amazing orgasms ALL of the time! Trust me, IFONNX sex toys are guaranteed to give you an orgasm!
Other Benefits Provided By Sex Toys Such As IFONNX Vibrators…
Sex Toys Help Reduce Stress
With everything that has gone on in the past 20 months with the uncertainty of the COVID-19 quarantine, both stress and anxiety have been building up, and sex toys can give you a safe, private and quick way to let off some of your built up stress so you're ready to face the challenges of life once more. And even though the COVID-19 pandemic is coming to an end, right now is the time when we need sex toys more than ever.
Sex Toys Let You Discover What Turns You on
It's important to really know what turns you on. With such a variety of sex toys on the market you can try something different every night of the week! Vibrators and dildos are most women's go to solo toys, but have you tried them at the same time? If not you should! Strokers are a popular male toy, but have you tried one with a butt plug? Gay and straight men like them just the same. Experimenting with sex toys alone makes you more aware of your body and will help you tell your lover what they should do to you in the bedroom!
Sex Toys Help Cure Insomnia
Insomnia and sleep problems are the actual worst. Using a sex toy to masturbate is a great way to get your mind and body ready for sleep whether you're anxious, have a thrown off sleep pattern, or your mind won't shut off. Having an orgasm before you go to bed causes the body to get exhausted due to the release dopamines and oxytocin.
Sex Toys Enhance Your Overall Mood
Due to the release of endorphins when orgasming, masturbating with sex toys makes you happy. You don't have to reach a full blown orgasm to relieve a little tension while masturbating with a sex toy, but just simply teasing the genitals will do the trick to turn any frown upside down!
Sex Toys Help Couples Set The Mood
Sex toys for couples are a great way to get foreplay going in the bedroom for couples! The longer couples are together the less foreplay they tend to have, but sex toys allow couples to spend more time pleasuring each other before having sex. 
The Best Selection of Vibrating Sex Toys Can be Found at IFONNX!
All women deserve to enjoy amazing orgasms, and no one understands this more than the people over at IFONNX!
If you have NEVER experienced a mind blowing orgasm with the help of a female sexual wellness toy then please try IFONNX vibrators ASAP.
IFONNX believes that the world would be a better place if everyone had more orgasms. They believe that every female should own at least a couple of sex toys.
With IFONNX as your friend, you'll join thousands of happy women from around the world, and enjoy the most intense orgasms of your life because the ABSOLUTE best sex toys to help women achieve orgasms are sold online at IFONNX!
IFONNX has developed 5 different female sex toy designs & concepts that WILL enable ALL women to achieve the BEST orgasms of their lives!
The people over at IFONNX understand that the "self-orgasm" is a wonderful journey, however, they realized that not all women know how to choose the correct sexually pleasing device that matches their needs & desires! This is where IFONNX comes into play because they want ALL females to enjoy the BEST orgasms possible!
Through innovation in structural design and social communication in APP, IFONNX is committed to creating and designing female sex toys that give them the most orgasmic pleasures possible!
Vibrators, Eggs, clit suckers, G-spot massagers – you name it, IFONNX has it.
Jenny's Favorite IFONNX Female Sexual Wellness Vibrators
You can't go wrong with any sexual wellness device for women that you order from IFONNX, but I'd still LOVE to share with you what my TOP 5 favorite orgasm devices are that are available at IFONNX…
IFONNX Bana
G spot vibrator for vagina stimulation with 10 vibrations – This dildo vibrator's motor vibrates up and down for deep, realistic movement. It has a soft and flexible clitoral stimulator, raised vertical ridges, and a natural curve to hit hard-to-reach spots, delivers intense sensations at any angle.
Visit IFONNX to learn more about this G-SPOT VIBRATOR!
IFONNX Aria
Oral pleasure mimic / G-spot stimulation: The 2-IN-1 toy is designed to not just simulate realistic oral pleasure, sucks the clitoris or nipples, it also could be inserted for G spot vibration, let you start with sucking stimulation for foreplay and end will G spot vibration to have the new climax experience.
Visit IFONNX to learn more about this AIR PULSING VIBRATOR!
IFONNX Gilly
Dual motor for powerful vibration – With the curved bulb head, smooth and rounded, our rabbit vibrator has contoured optimum G-spot and A-spot arousal, while the mouth of little elf sits in prime position to stimulate your clitoris. Dual stimulation can cause a blended orgasm and help you redefine your pleasure.
Visit IFONNX to learn more about this RABBIT VIBRATOR!
IFONNX Offe
OFFE has 10 modes, with a rechargeable silicone remote control. You can easily choose the mode that suits you. Its remote control distance is 10M, which makes the whole exercise process easy and fun.
Visit IFONNX to learn more about this EGG VIBRATOR!
IFONNX Yutu
G-spot & Clitoral stimulation – A toy for couples that has a U-shaped design and a wide lay-on head with a powerful motor in each shaft. one lies on your clitoris, while you insert the other during play to massage your G-spot.
Visit IFONNX to learn more about this WEARABLE VIBRATOR!
(by Jenny)