Wow, it has been a while since I've written a full toy review, hasn't it? I have to admit that I've missed doing this, though, so it's really nice to get back into the swing of things with the Euna app-controlled vibrator from Ifonnx.
Ifonnx Euna: App-controlled vibrator Basics
The Ifonnx Euna is a curved vibrator that sits somewhere between a classic "love egg" and that whale thing I reviewed last year. Its insertable length is around 3.5″ and it has a long, curved tail for easy insertion and retrieval.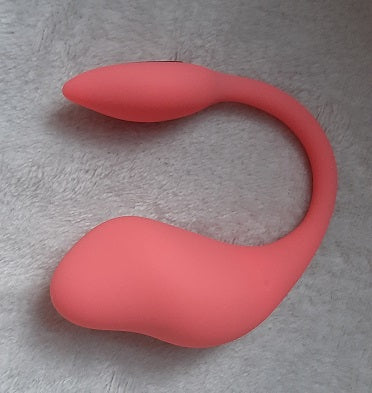 The single control button is located on the end of the tail and is large, easy to press, and prominent enough that you can feel for it without needing to look. Without using the app you'll have access to 3 constant speeds and 8 patterns, which you can scroll through with the touch of the button.
The Ifonnx Euna is coated in 100% soft, hypoallergenic, and body-safe silicone. Mine is a bright shade of pink, and it's also available in a dusky dark blue. It is IPX7 waterproof, meaning it can be submerged safely in shallow water for up to 30 minutes. In other words, if playing in the bath or shower is your thing, that's totally possible.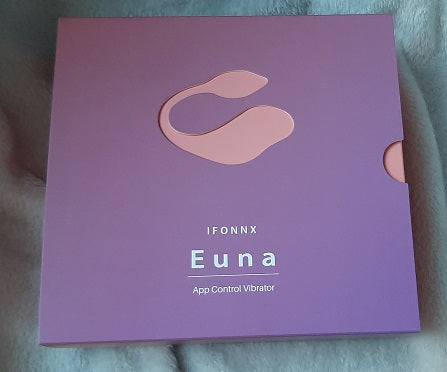 The Euna retails for $96 at full price (around £80 GBP), which is a pretty competitive price point for a body-safe, rechargeable, waterproof, app-controlled toy. It arrived discreetly shipped and packaged in an attractive branded box made of recyclable cardboard with a plastic inlay tray.
Along with your toy, in the box you'll find a charging cable (you'll get 60 minutes use from a 60 minute charge), a red velvety storage pouch, an instruction leaflet, and a gift card for a discount off your next purchase.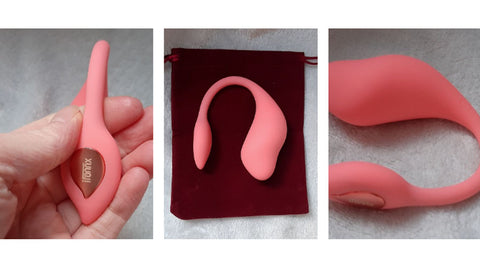 Ifonnx App: ifonnxslip
The Ifonnx Euna is controllable from anywhere in the world via the free app, which is available on both iOS and Android. Weirdly, I couldn't find the app by searching the Play Store, but it popped up immediately when I scanned the QR code on the toy's instruction booklet.
It took a couple of attempts to connect my toy. For some reason, you have to have location permissions enabled for the app to pick up the device. I'm not sure why that should be but maybe someone with more Bluetooth knowhow can explain? But as soon as I'd figured that out, it conncted in less than a second.
Once you're in the app, you have several options. The Motion option vibrates the toy along with movements of your phone, which has interesting potential for (for example) putting the phone in your or your partner's pocket as you walk and feeling the vibrations with every step. The Sound setting picks up sounds in the surrounding area and vibes along to them. Try playing music, talking into it, or just keeping it switched on when you're in a noisy space.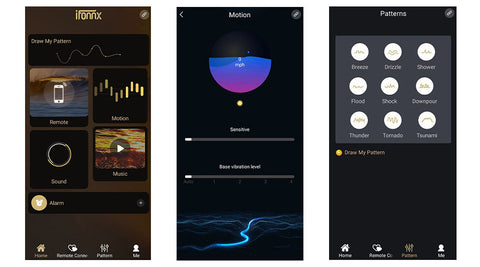 In the Patterns section, you can choose from 9 pre-set patterns or draw and save your own, giving you literally endless possibilities. Under Music, you can upload your own favourite tunes to vibe along to. And in the Remote Connect section, you can hand control over to your partner from anywhere in the world as long as there's an internet connection.
You can even wake yourself or your partner up with vibrations, if you wish. Since this is an intertable leave-in vibrator, you can wear it overnight. Just set it to vibrate with your chosen pattern and specified intensity at the time you want to wake up. Well, there are worse ways to start your day!
The toy-to-app connection is excellent. Unlike many toys I've tried in this category, the connectivity is stable and reliable and the response speed is virtually instantaneous. It also has an attractive black and gold aesthetic and an intuitive user interface.
How Does It Feel?
I like the shape of the Ifonnx Euna a lot. Its slightly curved body provides a nice internal pressure. If you position it just right, the tip can rest against your G-spot. The flexible tale makes it easy and comfortable to insert and remove, and lies non-intrusively against your body while you're wearing the toy. Thanks to the soft silicone, it's comfortable enough for all-day wear if that's your thing.
The vibrations are pretty strong and honestly, more powerful than many more expensive toys of this type that I've tried. Unfortunately, they are a little more buzzy than I prefer. If you enjoy deep rumbling vibrations, this might not be the toy for you.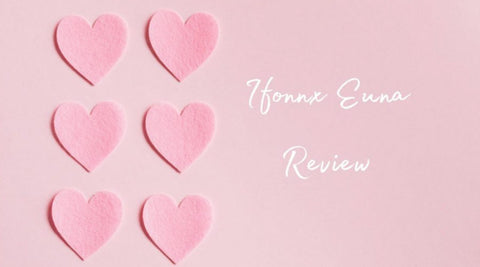 Personally, it's unlikely that I would orgasm with it, but it's fun for an ongoing tease throughout the day, while out and about, or as a precursor to sex.
Verdict
The Ifonnx Euna is a great quality little vibrator with excellent app functionality. It also sits at a surprisingly affordable price point compared to many of its competitors!
Buy yours here and check out Ifonnx's other products while you're there.
Review by Amy Norton