Wearable vibrator Yutu
$31.20
Regular price
$35.00
📓 Vibrator user manual
💎 FREE SHIPPING - Order Over $69
💎 Discreet delivery without product info
💎 Payment security with 128-bitencryption
Wearable vibrators|Enjoy Your Quiet soloplay|IFONNX
Our wearable vibrators has a U-shaped design and a wide lay-on head with a powerful motor. This design is ideal for beginners looking to spice up their play.
IFONNX wearable vibrators: One device for all your sexual needs
Self-pleasure is self-love which everyone in their life should do. And nothing can stop you from self-pleasuring. These days various sex toys are widely available in the market, so choose your kick and achieve that ultimate orgasm. Here at IFONNX, we promise to give you the ultimate pleasure in bed with our beautiful, functional, and safe sex toys. From our latest collections, Futu is one of the best-selling wearable vibrators that come in multiple features to give you the highest satisfaction.
This couple-friendly sex toy is perfect for those who are in LDR since you can control it remotely via the application on your phone. So if you want to spice up your nights and mornings with a functional and stylish wearable vibrator, then Futu is your bed buddy. If you are bored of traditional vibrators and want something extra, then read this article to learn more about wearable vibrators and where to find the best ones.
What are wearable vibrators?
The name itself defines its purpose perfectly. A wearable vibrator is a type of sex toy designed to be worn on or inside the body (inside virgina) for hands-free pleasure. These devices can be worn discreetly under clothing or during intimate moments with a partner, allowing for a more adventurous and stimulating sexual experience. There are various types of wearable vibrators, including those that can be worn on the clitoris, G-spot, or both. You can control them remotely via a smartphone app or remote control, making them ideal for long-distance play or discreet public use. Others feature different vibration patterns and intensities to cater to different preferences.
Wearable vibrators are popular among both singles and couples, and they can use them to enhance sexual pleasure, explore new sensations, or as part of foreplay or BDSM play. It is important to choose a high-quality, body-safe device and to communicate openly with any partners about boundaries and preferences.
How to use wearable vibrators?
Since wearable vibrators work just like any other vibrators, you can simply put it inside the virgina and turn on the power button. Here are some useful tips for using wearable vibrators:
1. Choose the correct vibrator: There are different types of wearable vibrators, including panty vibrators, bullet vibrators, and vibrating panties. Consider your preferences and choose a type that suits your needs. You can discuss with your partner his/her preference.
2. Use lubricant: Adding a water-based lubricant before using your wearable toy can enhance the sensation and prevent discomfort. Apply a small amount of lube to the vibrator and your body. It also helps to cancel out irritation and itching. Plus it feels good on your body too.
3. Place the vibrator: Place the vibrator in a comfortable position against your clitoris or inside your vagina. Make sure it is secure and won't move around during use. Sometimes many people don't know where and how to place a sex toy inside, so you must know your place.
4. Use the app to control: Experiment with different vibration settings and find the one that feels best for you. Futu comes with its very own application so that you can easily control your vibrator from far apart.
Remember to clean your vibrator before and after each use, and store it in a clean, dry place. Have fun exploring the sensations and pleasure that wearable vibrators can provide!
Why should you be using wearable vibrators?
Regardless of what your reasons are, whether you are in an LDR or have been single for a while, or just want to spice up your sexual needs, wearable vibrators offer something for everyone. Using a wearable vibrator can help you in many ways you can imagine. Here are some of the reasons why you should be using wearable vibrators.
Hands-free stimulation: Wearable vibrators are designed to be worn on the body, which means that they can provide hands-free stimulation. This can be particularly useful for people who have limited mobility or dexterity, or for those who want to experience stimulation without having to use their hands.
Discreet: Wearable vibrators are often designed to be discreet, which means that they can be worn in public without attracting attention. This can add an element of excitement and spontaneity to sexual experiences.
Variety: There are many different types of wearable vibrators available, from discreet panty vibrators to more elaborate strap-on designs. This means that there is something to suit every preference and level of experience.
Intensified orgasm: Vibrators are known to enhance sexual pleasure and lead to more intense orgasms. Wearable vibrators take this a step further by allowing the wearer to experience vibration stimulation in a hands-free way, which can make the experience even more intense.
Improved sexual health: Vibrators can be used to improve sexual health, such as by increasing blood flow to the genitals, improving pelvic floor muscle tone, and reducing stress and tension. Wearable vibrators can provide these benefits while also being discreet and hands-free.
Fun with your partner: Wearable vibrators can also be a fun addition to partnered sex. For example, a partner can control the vibrator from a distance, or the wearer can use the vibrator during sex to enhance their pleasure. It allows couples to explore their sexual preferences and desires and can lead to more open and honest conversations about sexual needs and desires.
Exploration and self-discovery: Wearable vibrators can be a tool for sexual exploration and self-discovery. By trying out different types of vibrators and exploring different types of stimulation, people can learn more about what they enjoy and what feels good for their bodies.
Where can you find the best wearable vibrator?
If you are looking for the best place to find wearable vibrators, then you should definitely check out IFONNX. IFONNX offers a wide range of variable and app-controlled vibrators to improve your sexual activities.
IFONNX's latest variable vibrator, Yutu, comes with a unique U-shaped design and a wide lay-on head with a powerful motor in each shaft. It is so that one side can sit on your clitoris while you can insert the other side during play to massage your G-spot. Yutu comes with 10 patterns made up of 3 intensities and 7 rhythms so that you can find your liking. Just touch the button to adjust the settings. Your partner can also customize the setting using the app on their iOS or Android device. It has a dual head vibrator with a dual motor and is made from body-safe silicone. Yutu has an IPX7 waterproof rating, so it can easily undergo water up to one meter deep for around thirty minutes of use. You can easily try Yutu inside your bathtub or in the shower. Yutu runs up to 60 minutes on a single charge and needs only 2.5 hours to fully recharge. It's really easy to carry around since it comes in a 54 mm × 90 mm size.
If you are bored of the same old vanilla sex and want to spice things up in bed, then just go for our wearable vibrators. Our wearable vibrators are easy to use and can be easily carried in public places. So go and check out our website today for the best offers.
FAQs:
1.Are wearable vibrators safe to use?
A: When used properly and as directed, wearable vibrators can be safe to use. However, as with any sex toy or device, there are certain risks and safety considerations that should be taken into account. It's important to choose the best quality vibrators and make sure they are made of premium quality body-safe materials. Also, it's important to keep them clean after each use.
2. How to clean your wearable vibrator?
A: To clean wearable vibrators, first remove any detachable components and wash them separately. Then, wipe down the rest of the device with a damp cloth and a gentle, non-abrasive cleaner. Make sure to avoid getting water in any openings or charging ports. Allow the vibrator to air dry completely before storing it in a clean, dry place.
3. Are wearable vibrators made from silicone?
Yes, they are made from the best quality body-safe silicone so they will not harm your intimate body parts.
4. How to charge wearable vibrators?
A: Typically, you can charge them just like any other electronic wireless device. Just plug the vibrator into a power source using the included USB cable. Wait until the device is fully charged before use.
5. Does Futu come with dual vibrators?
A: Yes, IFONNX'S Futu comes with a dual motor to stimulate the clitoris and the G-spot for that extra double pleasure. Also, it features 10 powerful vibration patterns to help you enjoy your sex freestyle.
Get one of these wearable vibrators from IFONNX and have fun.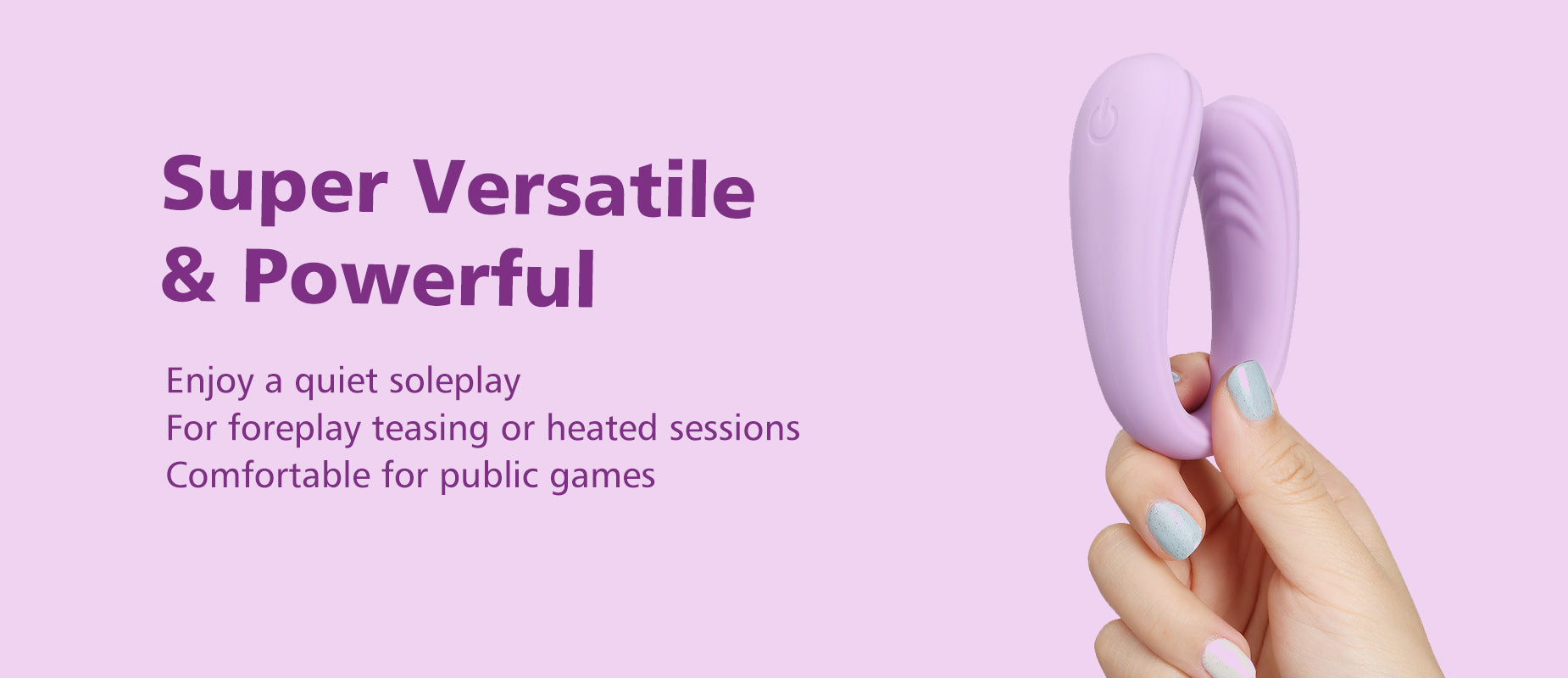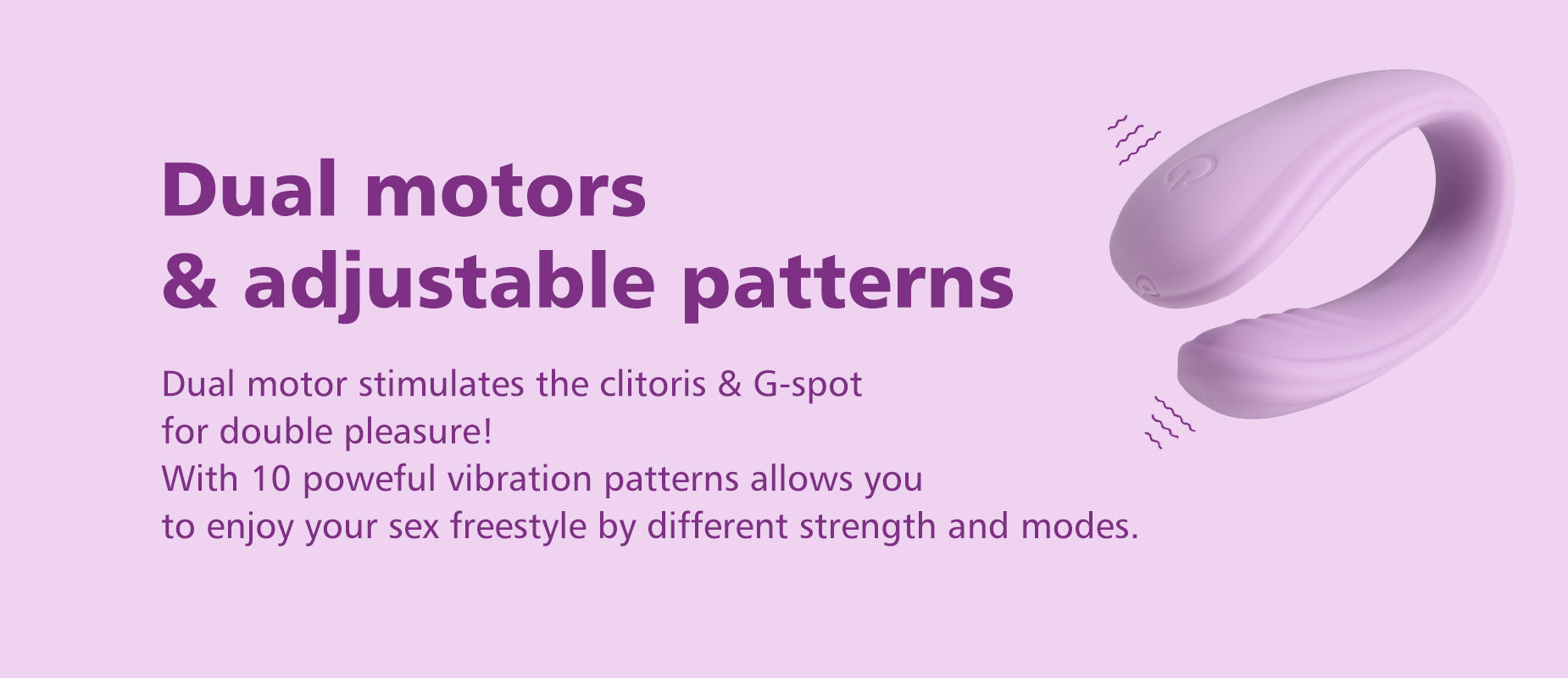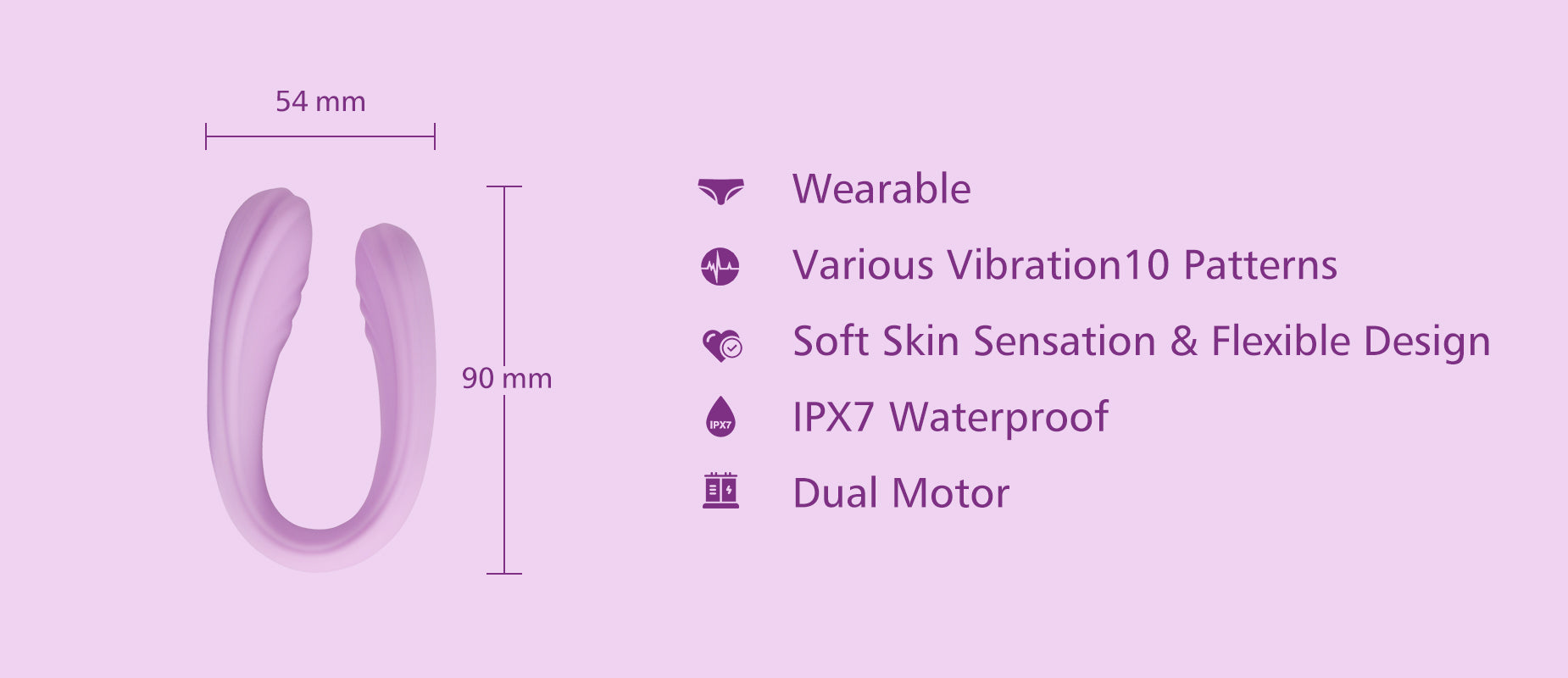 About Wearable vibrator Yutu
As a couple wearable toy - Yutu has a U-shaped design and a wide lay-on head with a powerful motor in each shaft. one lies on your clitoris, while you insert the other during play to massage your G-spot.just the touch of a button, the couples vibrator is sure to get your blood pumping with ecstasy inducing combinations, all controlled with 10 patterns made up of 3 intensities and 7 rhythms.

Yutu has an IPX7 waterproof rating, It's protected against immersion in water up to 1 meter deep for up to 30 minutes of use, so you can enjoy it in the shower or bath at any time.When used during sex, the inserted shaft provides your sweetheart with an exciting feeling of constriction and pleasurable vibrations, while simultaneously stimulating your clitoris and G-spot.
Yutu runs up to 60 minutes on a single charge and recharges in only 2.5 hours. it's the fresh design provides easy handling and is ideal for beginners looking to spice up their amorous play.
Features
➣ The dual head vibrator with dual motor.
➣ 10 vibration settings: 3 intensities and 7 rhythms.
➣ Simultaneously stimulating your clitoris and G-spot
➣ Penetrative partner or couple pleasure.
➣ IPX7 waterproof and easy to clean.